The Chicago Electric Piano Co. is the expert resource for servicing Rhodes, Wurlitzers, and Hohner Clavinets in addition to an array of lesser known electro-mechanical pianos and vintage keyboards. We also have extensive experience servicing Maestro, Musser, Jenco, Howard, Farfisa, Vox, Gibson and Fender organs, as well as a variety of relatively unknown vintage keyboards. From your most basic tuning to a full expert restoration of your instrument to its original glory, The Chicago Electric Piano Co. is here to restore that vintage sound that you just can't get enough of.
Our mission is to provide the highest quality repair or restoration by holding ourselves to the highest level of integrity throughout our process in order to stay as true as possible to the original sound of the instrument. We have an inventory of sorted vintage parts for the instruments we restore and experience with the leading names in parts suppliers for acoustic and electric pianos. Throughout any restoration we only use the top quality parts from a variety of different suppliers.
In the end, any musical instrument is only going to play and sound as well as the condition of the instrument's parts allow as well as the level of detail given to how the instrument is setup to play. And ongoing setups throughout the lifespan of the instrument play an integral role in the life and sound of the instrument. Depending on the condition of the instrument's parts and current setup the cost of repairs and setup can vary to a great degree. Following an in depth evaluation of your instrument by our workshop we will give you a detailed estimate of the work necessary before service begins.
Our estimates and honest expertise are always free of charge. are always free of charge.
| | |
| --- | --- |
| 30 Minute Consultation and Estimate | FREE |
| Hourly Labor (Primary: Electric Pianos & Combo Organs) | $95/hr |
| Hourly Labor (Secondary: Rare Keyboards, and Non-EP Amplifiers) | $85/hr |
| House Calls in Chicago | $30 flat (Can include pickup/delivery) |
| House Calls Outside City Limits | $30/hr (Can include pickup/delivery) |
Just Tuning: $80-120 (For well-maintained instruments)
The Standard Tuneup: $150-450 (For most instruments)
Standard tuneups are necessary to ensure the health of any electro-mechanical instrument. Our Standard Tuneup is the most comprehensive basic setup and tuning service available for your Rhodes or Wurlitzer and is focused at providing the most appropriate ways of maintaining the health and function of the instrument. With the right foundation, it is guaranteed to restore the tuning, voicing, and action/regulation adjustments. This tuneup is recommended every six months to two years depending on use and is critical for maintaining the health and voice of your instrument.
Precision tuning Strobe tuning followed by fine tuning by ear for more 'pure' fifths for a well-tempered scale within the instrument.
Interior Cleaning and Lubrication to aid the future health of the instrument.
Even voicing and proper dynamics for each note to bring out the volume, harmonics, and setup of a better dynamic range of the keys and action assembly.
Action inspection and basic adjustments to keep the keyboard operating in a healthy and expressive dynamic range.
The Works: Beyond Basic Repairs to Partial Restorations $500-1,000+ 

The Works begins to take your Rhodes or Wurlitzer beyond the limits of its aging components and begins to restore vital aspects of the instrument for coming years and decades. Depending on the condition of your instrument our free diagnosis will target the most critical parts that need restoration before the work begins.
Restoring the Key Bed and Action: Depending on the condition of the instrument, restoring the action of a vintage keyboard should always begin with a completely level key bed and rebuild. Our workshop is one of the only shops that has the specialized expertise to restore any Rhodes or Wurlitzer to the expressive touch and dynamic play that they were originally designed for.
Updating Aging Components: Our workshop sources only the highest quality parts from the finest acoustic piano felts to the best reproduction parts and NOS whenever available. Many of the original parts of vintage instruments have aged to a point where they must be replaced to keep the instrument operating properly and we have tested parts from all manufacturers in order to guarantee the quality of the parts that we use in the restoration process.
Inspecting and Updating Electronics: Many of the electronic components that were used in vintage amplifiers and electronics were never predicted to have a working life of more than just a couple decades. Only a full service inspection of the amplifier or electronics can provide the insurance that all the components are still working properly. Other electronics components have become outdated and require that we update them for safety or convenience of use.
The Rebirth: Complete Restoration Services $1,500-3,000+

The Rebirth is our flagship restoration service that brings any Rhodes or Wurlitzer to better-than-new condition. Every part of your Rhodes and Wurlitzer is inspected and rebuilt from the key bed up giving greater attention to details of the processes than they gave at the factories where the instruments were mass-assembled. We fine tuning each individual part to insure that your instrument will once again be ready for the decades to come.
Custom Shop: $400-2,000+
Simply owning a nearly one-of-a-kind vintage instrument sometimes just isn't enough without its own custom look or circuit modifications. At The Chicago Electric Piano Company we understand–if not encourage–this kind of self indulgence. In addition to being able to restore your vintage piano to a point that plays better than when it left the factory, our workshop will consult with you to rebuild your instrument to obtain any custom look or sound that you are looking for. 
Parts Suppliers, Resources, and Friends of The Workshop:
Borish Electronics (Synthesizer & Electronics Repair)
Chicago Fret Works & Amp Works (Guitar and Tube Amp Repair)
Chicago Music Exchange (Vintage Guitar Mecca)
CAE Sound (Vintage & Reproduction Parts Resource)
Ken Rich Sound Services (Reproduction Vintage Keys Parts and Services)
M&S Organ Parts (Chicago Based Hammond Organ & Leslie Experts)
Third Coast Guitar (Guitar and Amplifier Repair)
Retro Linear (Reproduction Parts and Services–AKA Warneck Research)
Schaff Piano Supply (Piano Parts Supplier)
Studios Amplifiers (Guitar Amplfier Designer & Builder)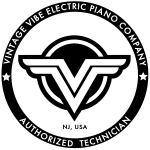 Vintage Vibe (Reproduction EP Parts and Services)

Warranty
In order to guarantee your satisfaction, all of our repair and restoration work is covered by a an open minded warranty relative to the scope of the restoration. This ranges from 30-90 days for the most basic setup to two years for our rebirth or Custom Shop services. Any warranty covers only services performed by our workshop under reasonable use of the instrument (–if you drop your instrument down a flight of stairs we'll have to work something out). We are always here to take care of our clients!