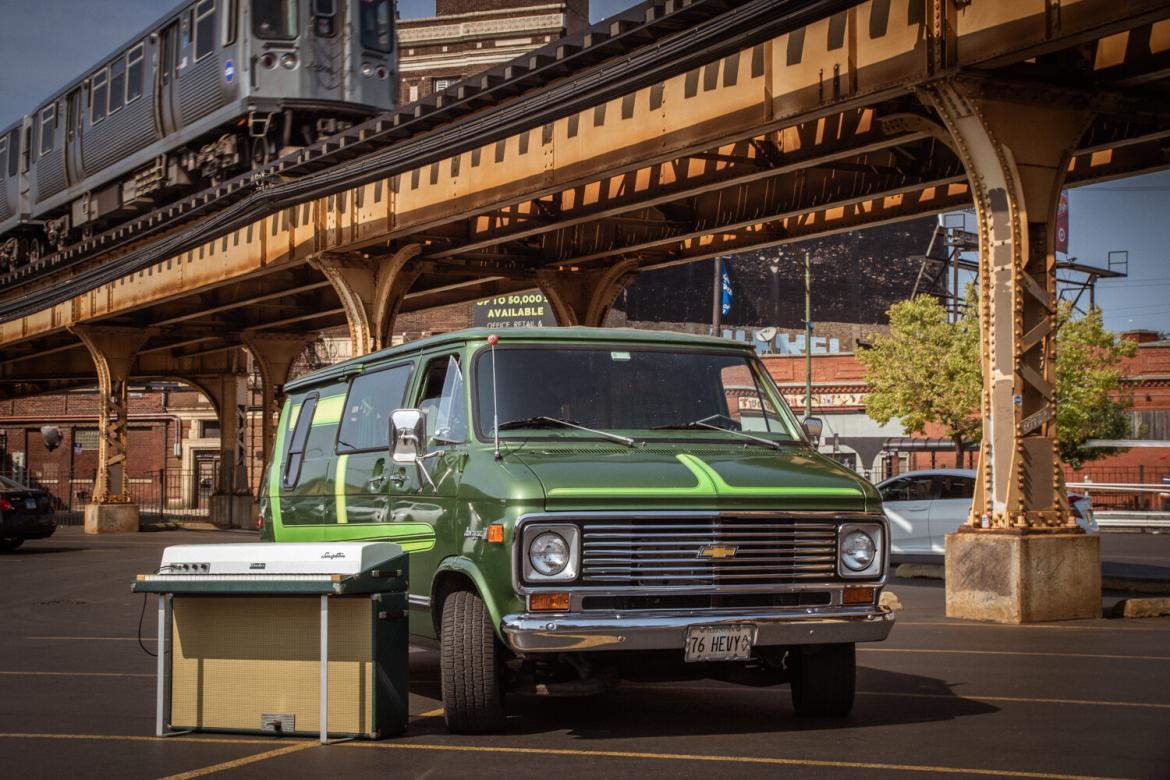 Green with Envy: 1976 Chevy van and 1977 Rhodes Suitcase
One of our favorite Rhodes custom builds, this Suitcase piano from 1977 plays like a dream and sounds even better than it looks. Following our clients cosmetic vision, we embraced the 70s vibe with forest green tolex, cane grill cloth, oak cheek blocks and a metallic white lid. Our top tier mechanical restoration includes a comprehensive action setup with pedestal bump, replacement bushing felts and key bed level. The voicing was completely reset with new tonebar suspension grommets and "fender" cube style hammer tips. The electronic rebuild starts with fresh electrolytic capacitors in the power amp and preamp, new biasing resistors on the power modules and a new set of four Jensen P12Q alnico speakers.
We knew we had to go all-out on documenting this piano. The idea of it being paired with a groovy retro van has always been a farfetched dream, but with the help of some friends we were able to make it a reality. The CTA tracks and passing train set the whole thing over the top. Scroll through the photos and check out the video below to hear the piano for yourself!

Hear it in action! An arrangement of "Yesterday" by the Beatles performed by Matt Blocher
The "Weedian" – info on the van:
We would like to thank Omar at Revolution Tattoo in Chicago for providing the Chevy and hanging out with us for an afternoon. Here is some background on the van:
"We christened it "The Weedian". I bought it from the original owner in Michigan about 10 years ago. It's a 1976 Chevy G10, and is considered a Survivor. Most everything is pretty much original including the shag carpeting, paint, wood panel, and motor. It was so well taken care of, that it has made 2 round trips to California, for Rolling Heavy Van Shows in Pioneertown, and various other shorter Midwestern road trips. Definitely a great road tripper. I have only done minimal engine work on it to replace the 40+ year old  parts that are just now starting to age and show wear and tear. I have also done some work on the interior, including a custom Big Ron's playmate steering wheel, custom diamond stitch cushions and matching inner door panels and custom lighting. "
To catch a glimpse of our buddy Woody Goss playing this piano, check out this video documenting his visit to our shop.