Our goal is to restore the Rhodes of your dreams!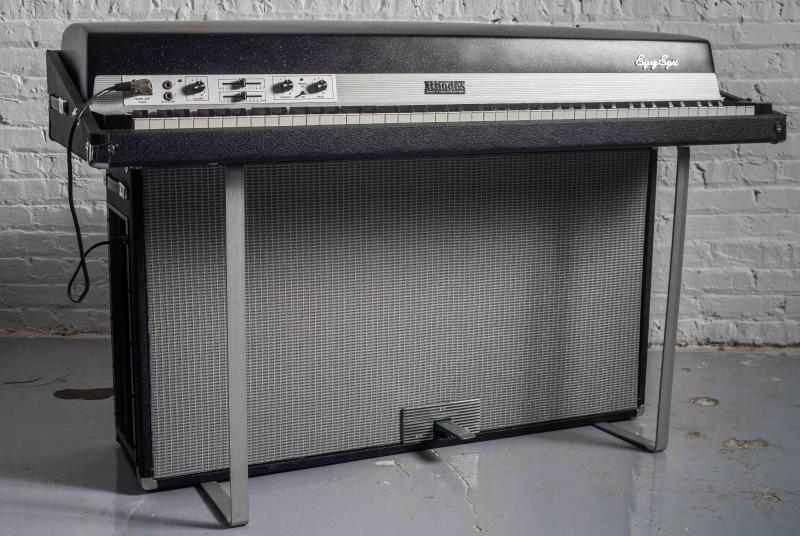 For some, that dream Rhodes is simply a 1975 Rhodes Mark I Stage 73 with original tolex in great condition for its age, while others may prefer replacing the tolex for a stunning good-as-new aesthetic–Or maybe you would like to customize that 1975 Mark I in Sea Foam Green to make sure that it is ready when the surf comes back in…
Others may prefer a Rhodes suitcase cabinet, such as a MINT single-owner 1980 Mark II Suitcase, or perhaps you prefer the warmer sound of the earlier "Peterson" amplifier… Too bulky to carry to a gig? Maybe you would like to upgrade your dream Stage Model with a more manageable Super Satellite Speaker System, or our Custom-Designed Stereophonic Cabinet to obtain that signature stereo vibrato…
–Whatever your dream Rhodes sounds or looks like, our team is here to make your dream Rhodes to reality!
Let us know what YOUR dream Rhodes is in the comment section below!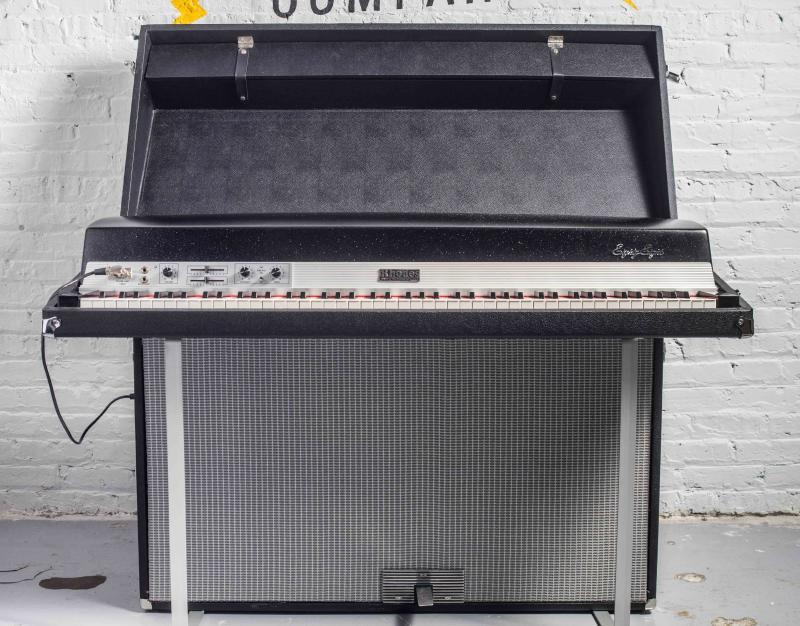 At first glance it can be hard to tell what services make this Rhodes a "Custom Shop" restoration, so allow us to take you through a closer look at this Rhodes so we can show you how we made our customer's dream instrument come to reality.
Here's a glimpse of some of the "Custom Shop" restoration details: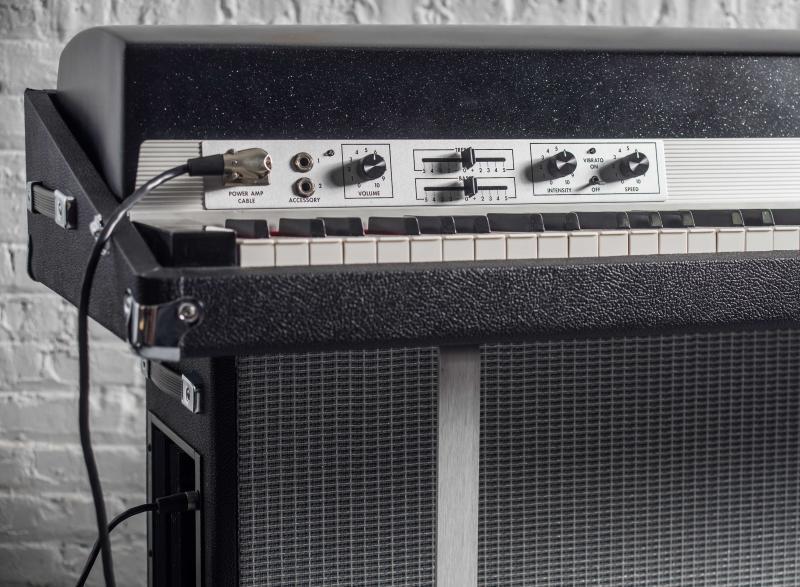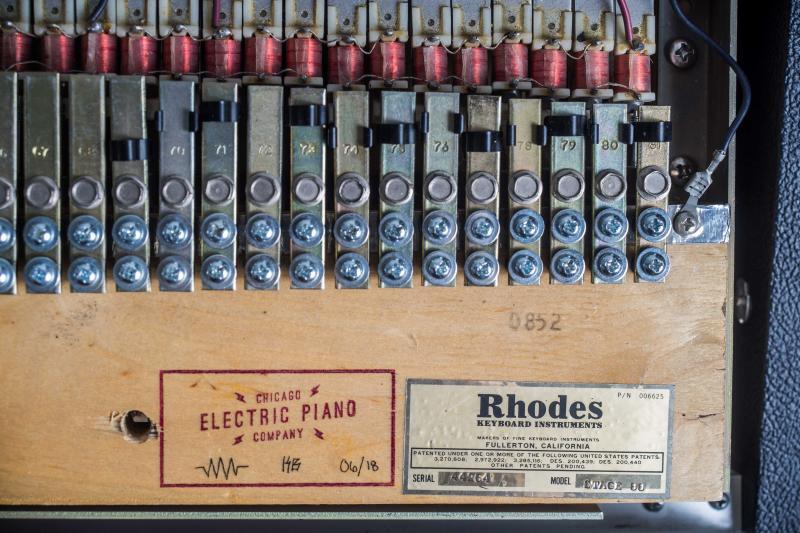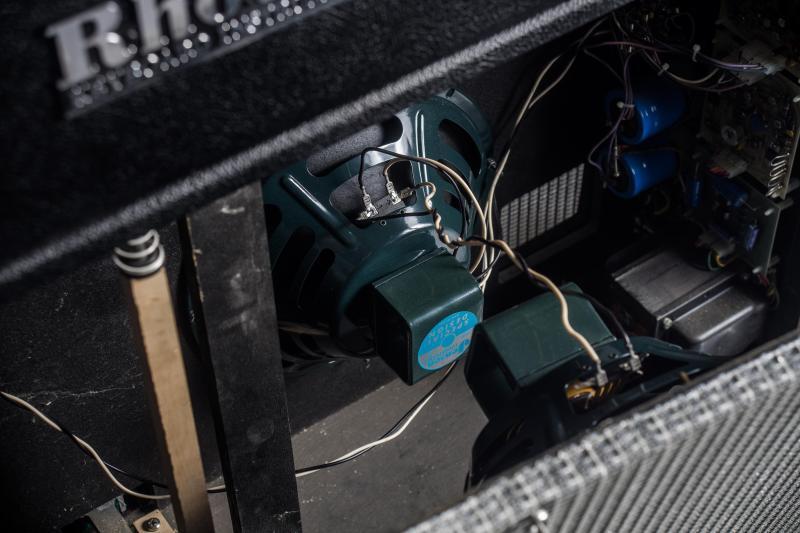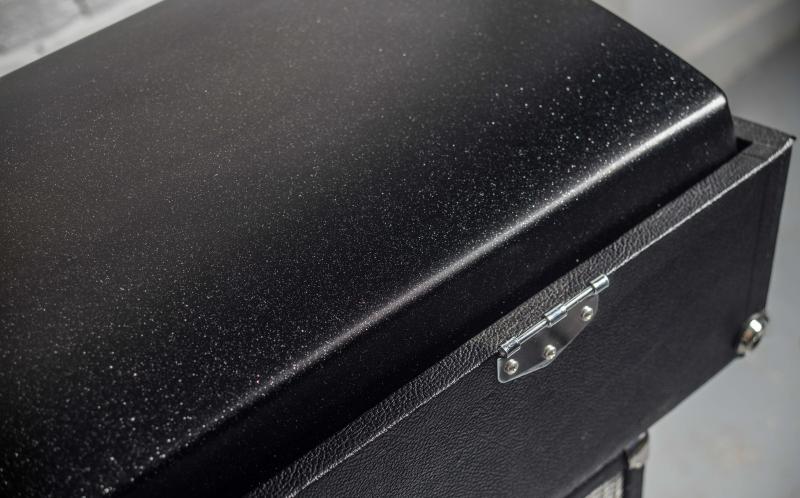 Did you catch all the details that make this a "Custom Shop" Rhodes? In case you missed the details in the photos above, here are some of the subtle details that make this a "Dream Rhodes" Restoration:
This Rhodes is a wonderful hybrid of a 1975 88 key Rhodes (formerly a Stage model) transformed into a "Janus" era Suitcase model featuring a cabinet upgraded with Alnico Speakers. In nearly every other year of Rhodes production there was at least one component that was changed or modified that gives a particular production period unique tonal and action characteristics. After playing a variety of instruments in our shop this client found certain attributes from differing production eras most pleasing. Through a discussion of the factors that contributed to the sounds that he liked most we were able to come up with a blueprint for his dream Rhodes.
If you've ever had the pleasure of playing a variety of Rhodes pianos side by side, then you are probably already aware that each piano has its own unique charm. –And if you haven't yet had this pleasure then drop on by! (Click here to see our current inventory).
The final combination is a dream come true for someone that loves the warmer sound of a '75 Rhodes and also the more versatile "Janus" amplifier controls implemented in '78. The Alnico Speakers are Jensen P12Q Alnico speakers, similar to the speakers used in the earlier "Peterson" Suitcase amplifier. They have a smoother treble range, warm punchy mids, and are less boomy than the Janus' original ceramic speakers.
What makes the Janus amplifier more versatile in sound comes from greater range EQ controls and wider speed range of the vibrato. While the Peterson is sometimes limited to simply dialing in the tone of the particular instrument, the Janus has an advantage of being able to shape the Rhodes' EQ depending on how you want it to sit in a particular mix.
Some love the warmth of the Peterson, including myself, and a great way to get a similar warmth in tone is with alnico speakers. In this case, employing Jensen P12Q Speakers ensured that we didn't drift far from the Peterson's original speaker pairing. The result is a really wonderful hybrid, bringing out the best vibes of the Janus and Peterson eras.
Along with dressing this Rhodes in new tolex, we replaced the knobs with some larger metal "hifi" knobs. The knobs have been a new favorite of ours since they look sharp and are easier to use than the Janus' original top hat style knobs. For grill cloth, we took liberty to replace the baffles with Fender silver grill cloth used in the "Peterson" era.
Another favorite point of custom cosmetics is the lid on this Rhodes. The matte/sparkle combination is a recent experiment in the spray booth and the result is even better than we anticipated. Dusting the sparkle flakes makes for a finish that is more subdued than a full sparkletop finish, making it a great choice for someone that want's to rehab a scratched Rhodes lid without straying too far from the original look of the Rhodes. The matte sheen of this finish is relatively equal to the sheen of the original Rhodes vinyl lid.
…These sparkle finishes look even better in person. It's nearly impossible to represent them accurately on camera. This particular finish is very similar to what you see on a 1960's Silvertone Guitar. Drop on by and check one out for youself!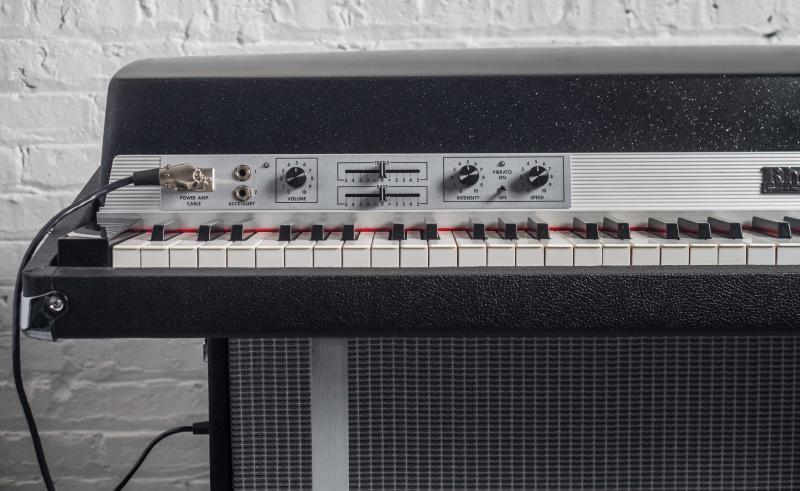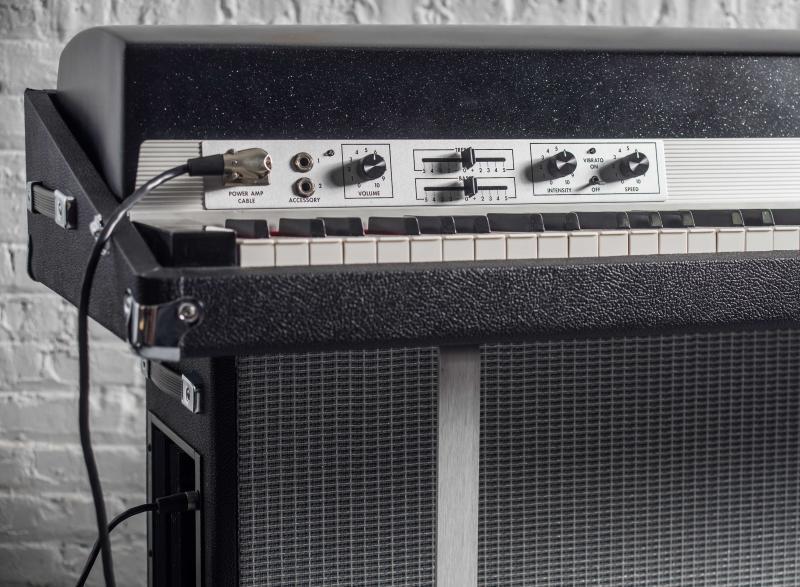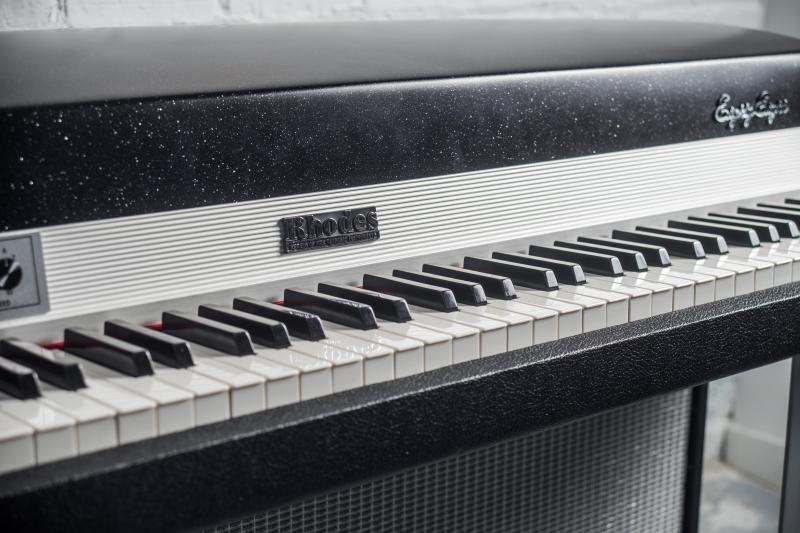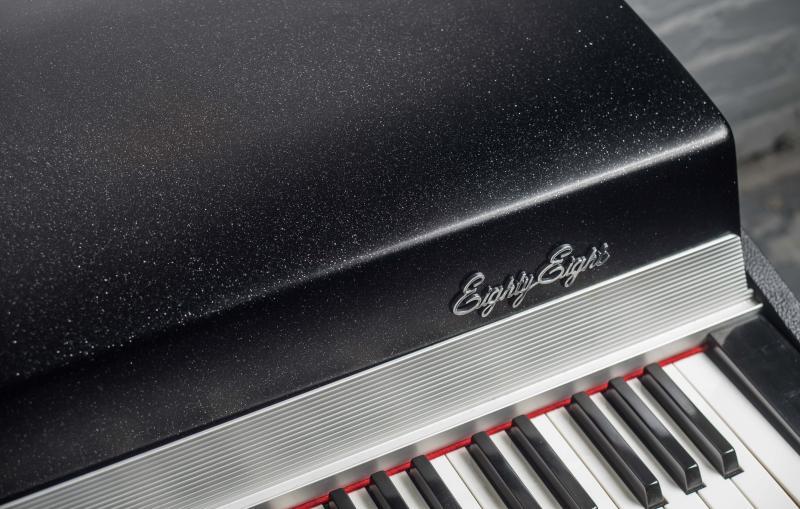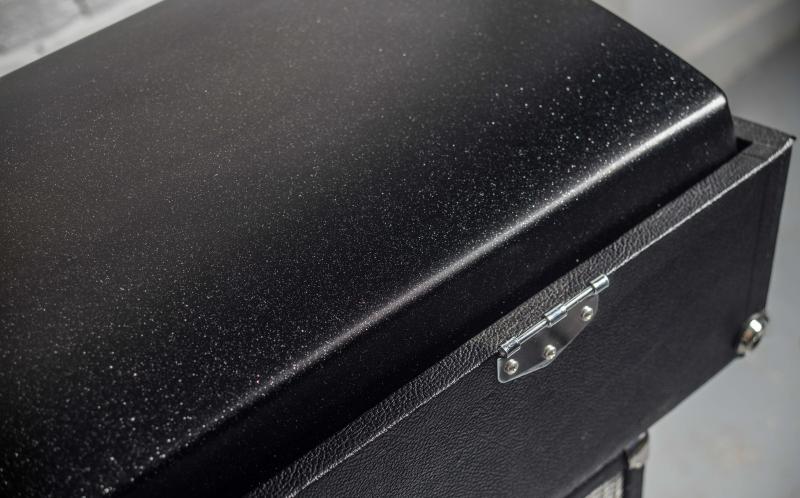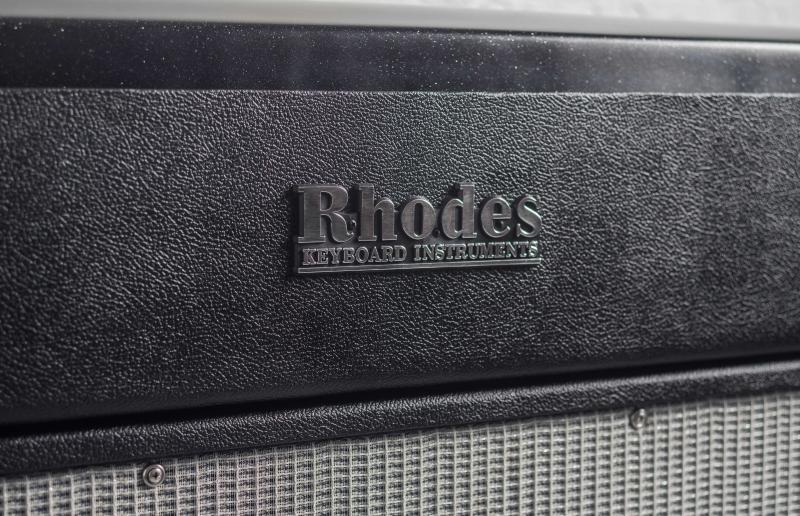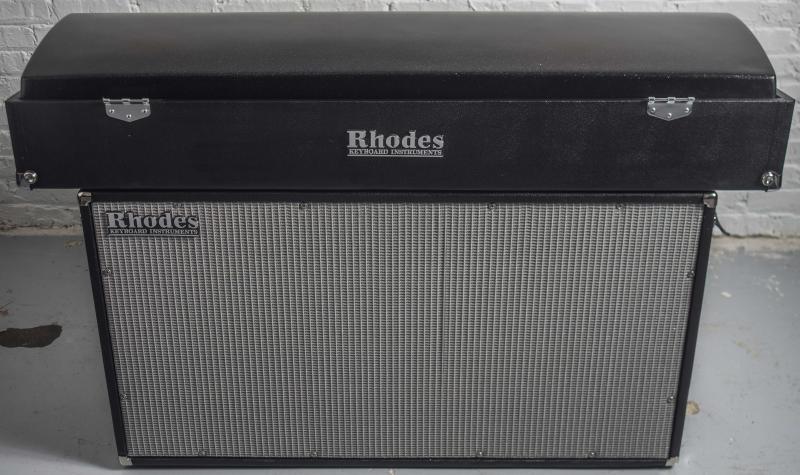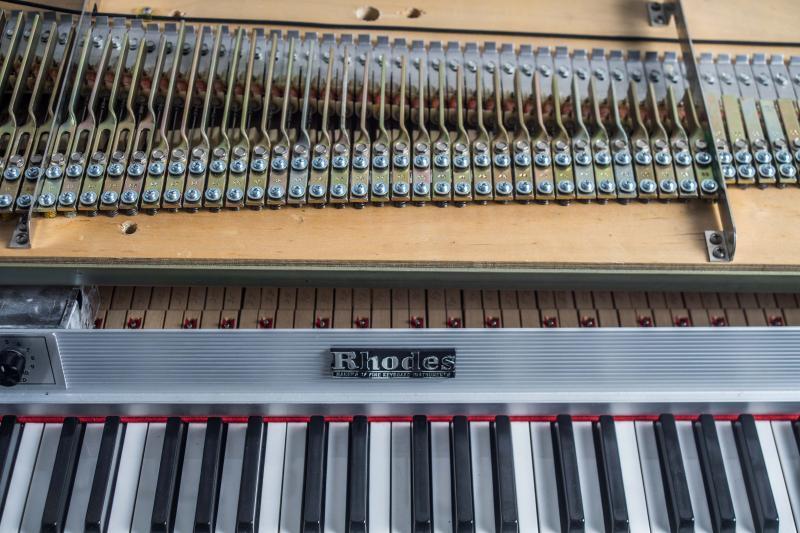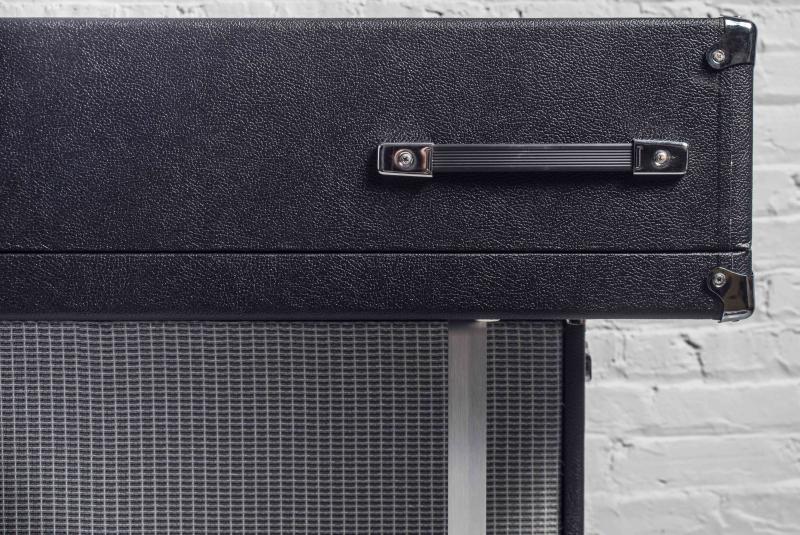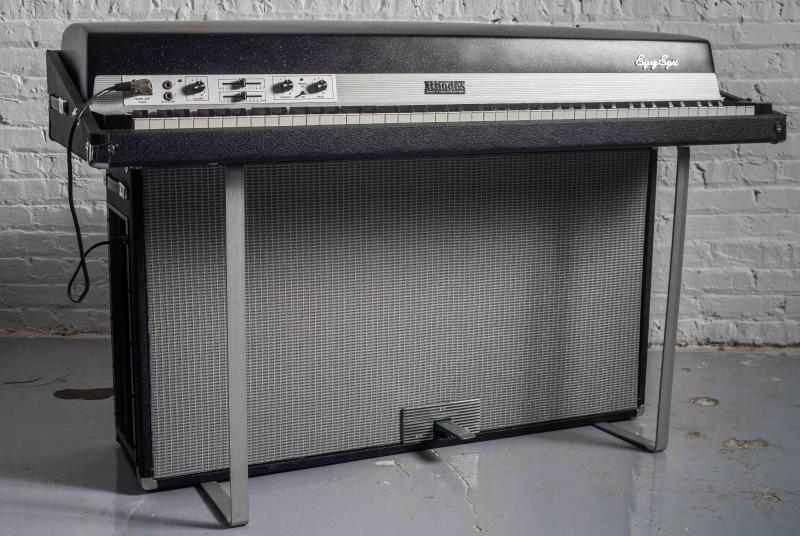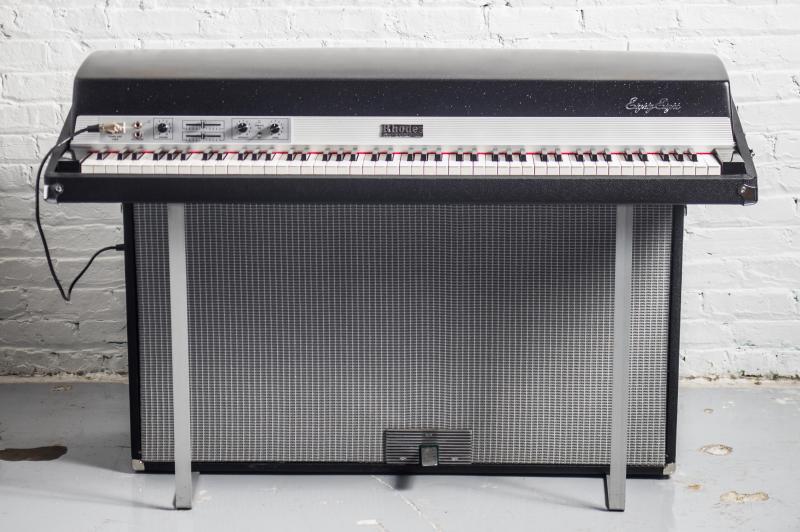 What's your dream Rhodes?
Let us know in the comments section or give us call to start your Dream Rhodes Restoration today!