Here's the latest beauty from our workshop: 1975 Rhodes Mark I Suitcase 73.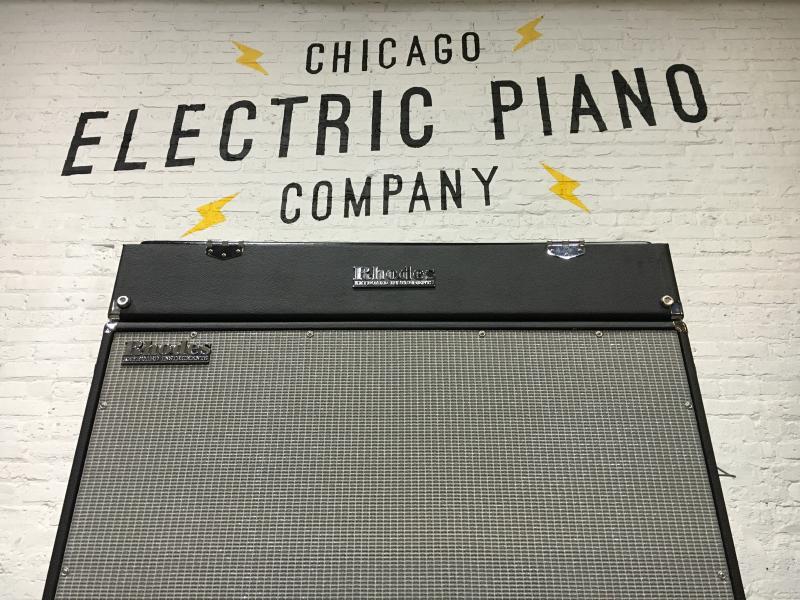 Re-Run Alert–We usually don't do this, but this episode of "CEPCo" will feature a re-run from 2016. These services are some of what we do every day, but fail to feature as often as our custom Rhodes restorations because they sometimes seem less interesting than something that would be considered a one-of-a-kind… This is a great look at our rebirth restoration services and I only wish we had the before/after photos to really showcase our work on this instrument… We are in the middle of a move between buildings and it has been hard to keep up with posting to our blog while we move 50+ EP's to our new location on Cicero. We hope to welcome you by there soon! Until things get back to normal, here is a wonderful restoration of a 1975 Rhodes Mark I Suitcase. (We are removing the former posts so that there isn't a double entry). Enjoy:
This beauty could have been yours but someone fell in love with it before we even had a chance to apply its new tolex! It's not too surprising since this Rhodes is from one of our favorite eras of Rhodes production. This Rhodes originally came from a school and besides the tolex being torn up it was incredibly clean internally. (And the good news is we have a few more Rhodes from this classroom set if you are interested…)
As you have come to expect from our fully restored pianos we started with a complete leveling of the key bed and action setup. From there, all aging rubber and felt components were replaced or treated in order to make sure that this piano plays and sounds just like new. We source only the top quality parts for our restorations from a variety of parts suppliers as well as our collection of vintage parts. In the end, our pianos get a detailed restoration process that leaves them playing and sounding better than when they left the Rhodes factory–and ready for another 40 musical years. 
If you are interested in a completely restored Fender Rhodes piano please contact max@chicagoelectricpiano.com. We have a large inventory of pianos that are in the restoration process and would love to help you find just the sound that you are looking for!