How to Value a Rhodes Piano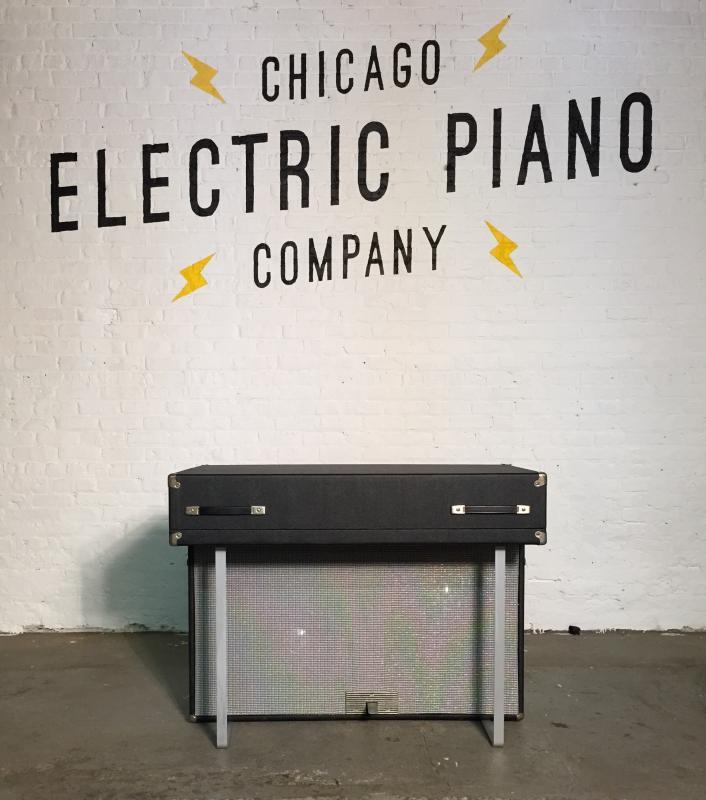 Part 1: How much is a Fender Rhodes Piano Worth?
Determining the value of a rare vintage instrument is a difficult task. There are many factors to consider which may seem trivial to certain players while being crucial to others. Some of the most significant factors that will always affect the value include the geographic location or market, the rarity or demand for the specific model, and perhaps most importantly its playing condition. Unfortunately, from our first hand observations of Rhodes sold in the near Chicago market the playing condition of the instrument is not commonly reflected in the asking price of the piano. We have observed nearly identical instrument models going for between $300-1,000 in relatively the same unserviced condition. Other instruments get listed at prices higher than that range but seem to have a much harder time selling. Given this range of prices it is absolutely critical to know what to look for when determining the fair value of an instrument if you are going to purchase an instrument that is not professionally serviced or restored.

In the past decade the price of Rhodes pianos has increased fairly steadily but this has not always been the case. Up until the late 1990's, Rhodes pianos were regularly sold for less than they are today and far less than their original retail price–even without adjusting for inflation. For instance, in 1973 a Fender Rhodes 73 key Stage piano sold for a retail price of approximately $720 (which in 2013 would have the same purchasing power of $3,764 according to the Consumer Price Index–which speaks to the craftsmanship that went into a Rhodes, which in still holds today–) and Suitcase models retailed for more than $1,000 ($5,228 today adjusted by the CPI). Unlike vintage Fender or Gibson guitars from the same era that have appreciated in price by leaps and bounds, Rhodes pianos have not kept up with the times as well until the past decade.
The drop in prices for Rhodes throughout the 80's and 90's was mainly due to the rising trend of players turning to synthesizers and digital keyboards as well as the lack of proper maintenance for Rhodes pianos throughout those decades. But even as the technology has advanced, no digital emulation to this day comes close to the feel and the sound of a real Rhodes (or Wurlitzer) piano. Players that have played both side by side often complain that they have a hard time relating to a digital keyboard the way that they find a natural connection with the real electro-mechanical instrument.
The trend over the past decade for digital keyboards, on the other hand, has been that they have not held their value, even over short periods of time. This is largely due to newer digital pianos constantly being introduced with advancing technologies and additional features, making many of the former models less desirable and often impossible to re-sell. Once a digital keyboard gets to be more than five years old the advanced technologies of newer models render the former relatively obsolete. Comparatively, digital keyboards are disposable instruments.
Although most stories of clients of finding their Rhodes or Wurlitzer dumpster-side happened in the 1990's, these rare scores are still happening today. Many Rhodes owners are simply unaware that the instruments' have value in today's musical landscape. Most Rhodes that we follow on the Chicago area craigslist sell within a single one or two weeks when listed between $300-1,000 in average unserviced condition. And almost all Rhodes owners the we speak with have sold their Rhodes for the same amount that they purchased it for or more. The instrument has grown to have more than a cult following and are still continually heard on new recordings released every year. It seems that the electro-mechanical design of the Rhodes piano has stood the test of time.
Side Note: Just as another example of how skewed this market currently is near Chicago, any Rhodes purchased for $500-600 with $500-600 of service from our shop will be in a completely different league than any Rhodes for sale at $1,000-1,200! In most cases, that budget will be enough to cover a complete restoration of the voice and basic setup of the instrument if the action is at a desirable level. Aside from the Hammond M3, we believe that Rhodes pianos may be THE most undervalued vintage instrument that you will come across!
Know Your Rhodes Models
When it comes to getting great tone from a Rhodes a little setup goes a long way – but the instrument will always be limited by the parameters of the components within the Rhodes' production era. Small design changes were made to the Rhodes piano practically every year which gives each era of production its own unique action and voicing characteristics. In our previous post we discuss some of the basic changes that are observed throughout the eras based on ideal setup conditions, and why certain eras are more desirable to some players.
Aside from those variations year by year, the Mark I and Mark II were offered in four common models throughout the years: the Stage and Suitcase, each offered with either 73 or 88 keys. In addition to these main four models, there was also a 54 key version of the Mark II and a Super Satellite (dual speaker cabinet for stereo tremolo offered as an alternative to the Suitcase) Rhodes that are more rare.
The Rhodes Suitcase models all have a 4×12″ cabinet with two speakers facing both directions resulting in a very unique sound when the stereo tremolo circuitry is activated (–as long as it isn't pushed up against a wall!). In addition to this classic tremolo sound, the built in amplification is a huge bonus for players that do not have a competent amplifier to pair with their Rhodes (click here for our previous post on Rhodes amplification). Because of their bulkier size due to their speaker cabinet, Suitcase Rhodes are often in better cosmetic and playing condition since they are less likely to have seen time on the road.
In general the 73 key and 88 key models are valued around the same price (because of the tradeoffs in weight associated with the additional keys) but some cases may cause the 88 key model to draw a higher price or lower price. Since the 88 key model requires more service it may justify a higher asking price if it is recently serviced or a lower price if it is in need of service. Still, there are certain players who cannot perform without 88 keys.
Even though there are few official production numbers the most common Rhodes models seem to be Mark I Stage 73 models from '76-79. Earlier Fender Rhodes models, suitcase models, and 88 key models are harder to come by. In the end, regardless of the rarity of the model, some Rhodes will be more sought after by players that are looking for a particular sound.
Once you have determined the model Rhodes that is right for you, the next step is to determine the Rhodes' overall condition… Here is our detailed post with pictures that walks you through everything that you need to look and listen to in order to determine the value of a Rhodes piano.