Just in time for Thanksgiving! Here's the latest from our custom shop: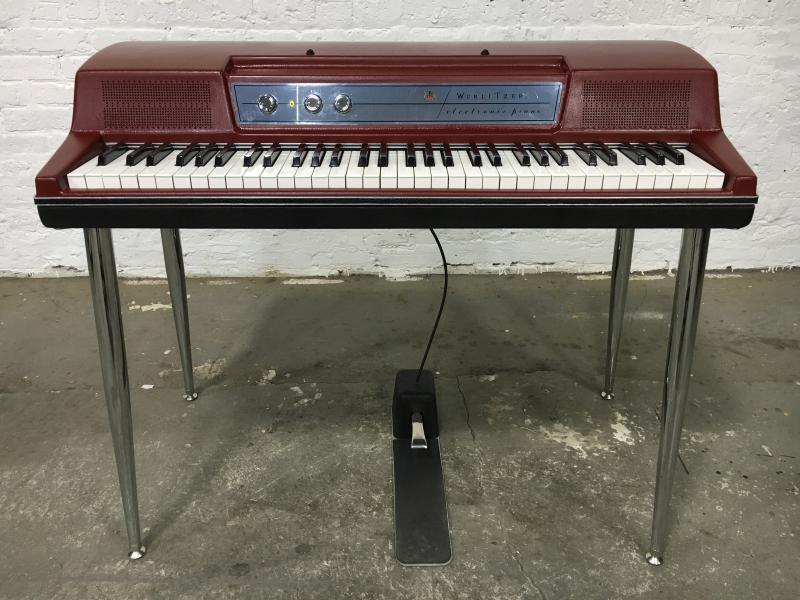 We restored this stunning vintage instrument with with our "Rebirth" level of restoration services including a number of custom shop upgrades. The red finish is a custom paint job which is a perfect match to the original Red Wurlitzer 200's. It and the base were re-painted to capture the original look of on of the coolest Wurlitzer finishes ever produced. In addition, we re-capped the white and black keys with new tops adding to the new mint finish. Along with the new set of chrome legs this thing looks like brand new–and it plays like it is too!
Internally, the instrument was restored with our full detailed restoration services. The key bed was completely leveled with all the sharps set to the proper height. And all action assembly springs and felts were replaced before regulation in order to get this thing playing at full dynamic potential.
The original alnico speakers are in great condition giving classic warmth to the instrument's internal voice. The amplifier was upgraded with the Warneck Research EP200 amplifier and variable vibrato, which have excellent tone and an amazing noise floor for recording and professional performance. –As you've come to expect from our custom restorations, this piano sounds and plays as good as it looks! 
Sound samples coming soon and are available on request. Feel free to message us with any questions.