We hope everyone is staying safe and keeping their communities safe during this global pandemic. We're currently working from home and feeling optimistic that we're finally going to get a real web store up and running! Until then you can still see a partial list of our upcoming inventory restorations here. For now we'll just go ahead with an old school blog post featuring some pretty pictures that we hope you'll enjoy even if you're not shopping around for a minty-fresh Clavinet…
At this current moment we have several Hohner Clavinets for sale, but this one is particularly blog-worthy, given its mint cosmetic condition. If you're looking for a Clavinet D6 we currently have a few in our inventory. Just shoot an email to info@chicagoelectricpiano.com for any inquiries about upcoming restorations.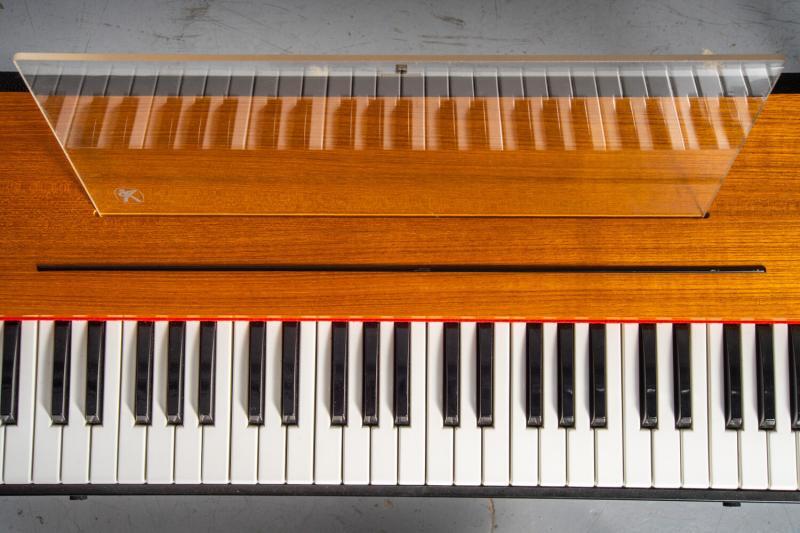 Here we have a pristine example of the iconic Hohner Clavinet D6. An undeniable funk machine, this clav has been fully restored by the Chicago Electric Piano Company and is ready for its new home!
As made evident by the photos, this clavinet is exceptionally clean, one of the cleanest to pass through our shop this year. We gave this one our full seal of approval – new hammertips, strings, electronics overhaul and complete action/voicing/tuning set up.
What all is included in our top shelf clavinet restorations? Here is a breakdown:
• Aging components replaced – new hammertips, yarn, strings
• Action setup – key dip adjusted and notes regulated for even sound and play; keys leveled; anvils cleaned and dressed
• Electronics – switches cleaned; aging electrolytic capacitors replaced
• Cleaning – meticulous cleaning of internal and external components
• Accessories – includes original legs, music rack and leg bag
• Cosmetics – excellent original condition. Please note in photos: there are some small chips in the veneer, two nearly undetectable burn marks on the right damper control panel, and the left case top shows a spot of discoloration. One of the rear latches on the lid is missing the key slot.
Serial Number 787360
International shipping available, please contact us for a quote.